2016 NEW Goochie permanent makeup liquid micropigment
They are made from rubbing and pure in mountain delicately with exquisite luster and sterling color but never turn color. Make chromatic more quickly and the color keep more durable, they will make the skin seems to have three-dimensional effect after dual chromatication if put a little concertrated liquid into the colors.
Character:
1. Liquids for electronic tattoo&permanent makeup machine use
2. Cream(thick liquids)- Both for electronic machine and embroidery pen use
3. Paste(very thick liquids)- For embroidery pen use only
Ingredients: Nanometer scale Inorganic plant pigment from USA, Medical emulsifier, Distilled water.
Specification: 10ml/bottle, 15ml/bottle, 1/2oz/bottle, 1000ml/bottle
Colorful Cosmetic Tattoo Ink Micro Pigment for Permanent Makeup Eyebrow
The Tattoo Ink Character:
1. Liquids Permanent Makeup Pigment for electronic tattoo & permanent makeup machine use
2. Cream(thick liquids) Tattoo ink - Both for electronic machine and embroidery pen use
3. Paste(very thick liquids) Permanent Makeup Pigment- For embroidery pen use only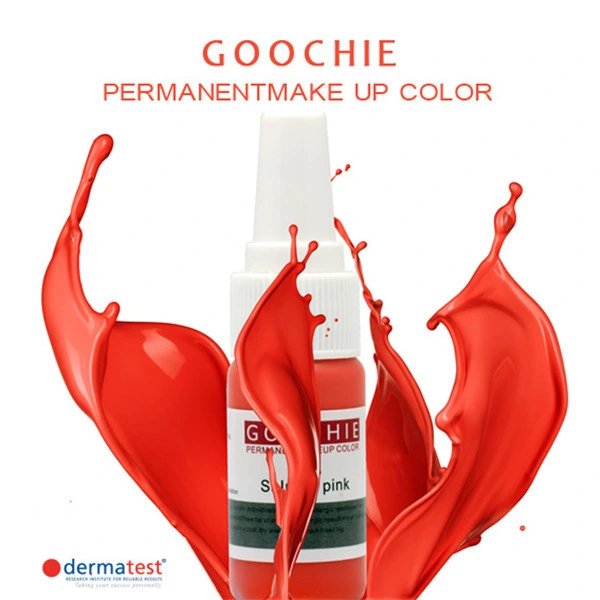 1.15ml per bottle
2.33 colors/set
-----
:
Tattoo Ink For Lips:
312 Fuchsine
316 Magenta
317 Rubine
318 Vermeil
319 Dark red
320 Wine red
305 Salmon pink
306 Peachpuff
303 Scarlet
307 Japanese red
308 Chinese red
321 Fuchsia
335 Rosy pink
336 Dark pink
337 Coral pink
338 Rouge red
:
Tattoo Ink For Eyebrow:
211 Apricot coffee
212 Deep coffee
220 Black
213 Green coffee
214 Orange coffee
215 Dark coffee
216 Grey coffee
217 Black coffee
218 Coconut Brown
219 Coco coffee
221 Chocolate
222 Yellowish brown
205 Pearl white
206 Glaze gold
==============================
Tattoo Ink Ingredients:

---Inorganic plant pigment
---Medical emulsifier
---Distilled water
Coloring fast, Not easy to fade.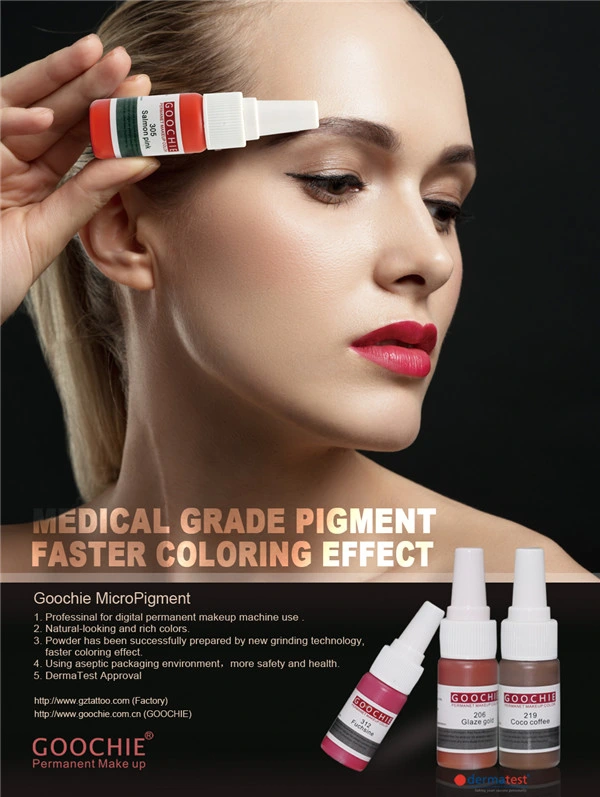 our company
Established in 1996,Guangzhou Zixuan Tattoo&Permanent Makeup Co.,ltd is a professional manufacturer and exporter that is concerned with the design,development and production of permanent makeup machine and microneedling derma pin pen.
Our welle quipped facilities and excellent quality control throughout all stages of production enables us to guarantee total customer satisfaction. We can provide OEM & ODM service, and offer most reasonable agent prices & excellent after sales service. Welcome to browse our website and visit our factory.
We offer various colors specific to different skin colors in different countries and regions. We also offer different kinds of inks based on different tattoo technical operation, such as liquid, emulsion and paste, which makes the tattooing operation easier.
We provide OEM service for the pigment according to your requirement, as well as packaging design and subpackage.
We are professional manufacturer of pernanent makeup products including machine, ink, anesthetic, needle, cap, manual tattoo pen and related accessories. We provide OEM and Brand Planning service. With 20 years' experience in the industry, we ensure you the best quality and service.
Q: What are the advantages of Mastor Permanent Make-up Machine?
A: Goochie company always bears the principle of supplying clients of products with high quantity, competitive price, good practical using sense and super after-sale service.
Q: Is OEM/ODM service acceptable?
A: Goochie company is able to do OEM/ODM service on machine, pigment, needle, according to customers' requirements. We are able to do different colors, LOGO print, series package, etc.Based on different modes of products, the terms of doing OEM/ODM will be different.
Q: How to order your digital permanent makeup machine?
A: Sample order and OEM order is accepted. Sales will make an INVOICE based on customer's request. Checked and paid by customer, we will arrange the goods and inform the tracking number soon. Usually the shipping will be EMS, DHL, TNT.
When satisfied with the machine model, please feel free to contact Ivy on ///Tel:18680262515